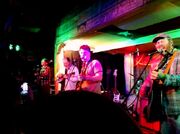 The Gourds
Gruene Hall
1281 Gruene Road New Braunfels, TX
1-07-12

Video: Soundcheck / Blood of the Ram > Sympathy for the Devil / New Roommate / Declineometer / Cranky Mulatto / Marginalized / Tex-Mex Mile / Ants on the Melon / Burn the Honeysuckle / Pill Bug Blues / Wired Ole Gal
01. Blood of the Ram > Sympathy for the Devil (Mick Jagger/Keith Richards)

02. (the new way of) Grievin' & Smokin'

03. New Roommate

04. Declineometer

05. Shreveport

06. Cranky Mulatto

07. Marginalized

08. Drop the Charges

09. Want it So Bad

10. Tex-Mex Mile

11. You Must Not Know

12. Drop What I'm Doing

13. Haunted

14. Ants on the Melon

15. Burn the Honeysuckle

16. Illegal Oyster

17. Pickles

18. Pill Bug Blues

19. Hellhounds

E:

20. Nights in White Satin tease (Justin Hayward) *

21. Lower 48 **

22. Wired Ole Gal

23. Gin and Juice (Calvin Broadus, et al.) > Easy (Lionel Richie) > Superman (Gary Zekley/Mitchell Bottler) > Gin and Juice
*A cappella
Ad blocker interference detected!
Wikia is a free-to-use site that makes money from advertising. We have a modified experience for viewers using ad blockers

Wikia is not accessible if you've made further modifications. Remove the custom ad blocker rule(s) and the page will load as expected.